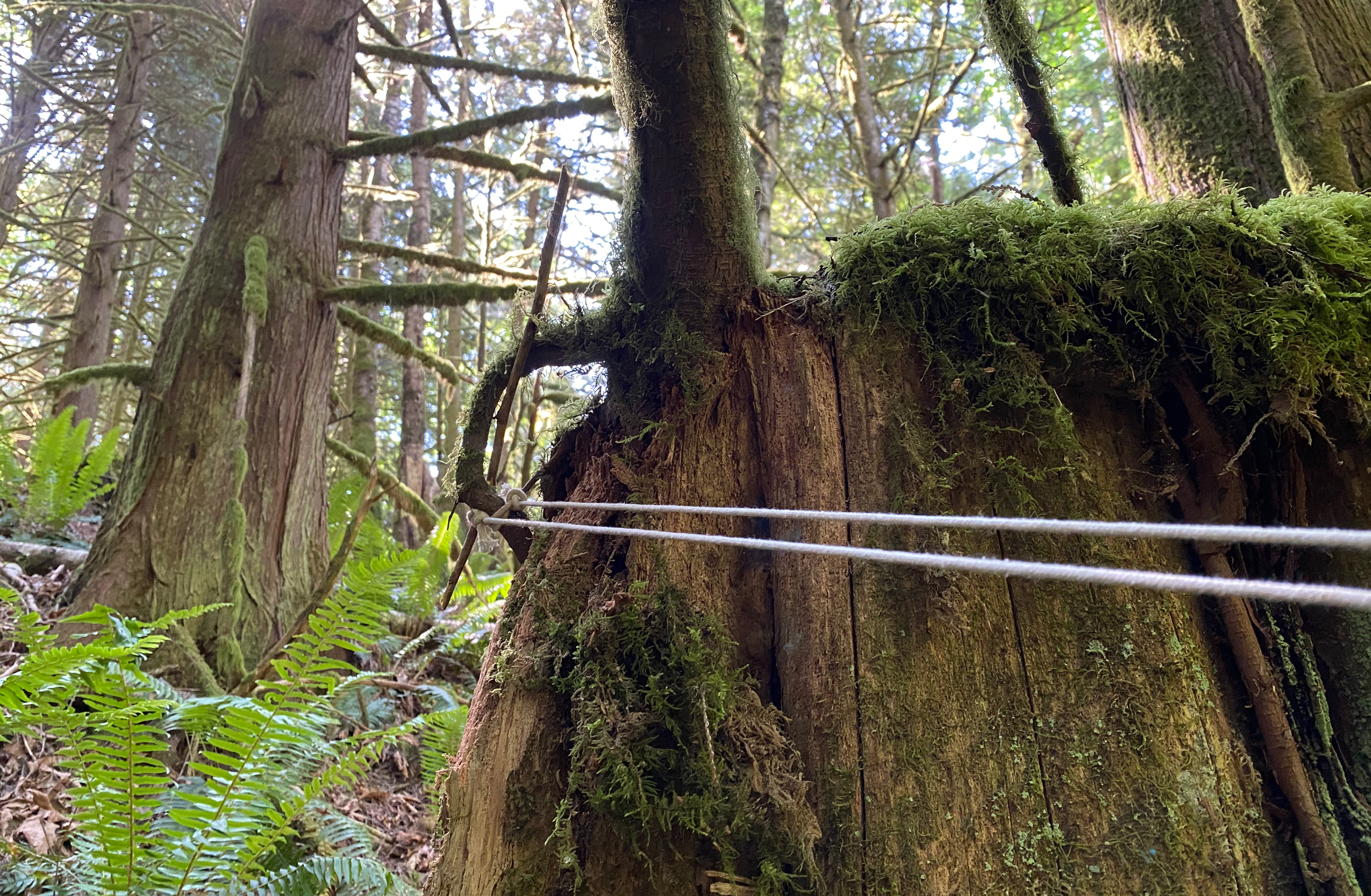 Forest Markings: a series of connected lines
Location: Ranger Station Gallery, Harrison Hot Springs, BC, Canada
Date: July 7–26, 2023
Media: Paracord
Dimensions: Varies
Commissioned by: Harrison Festival Society
Photos of gallery installation: Stanley Pointer &
Samantha Schwann
Vimeo [click]

I acknowledge that this work is on the traditional ancestral and unceded shared territory of the Sts'ailes people.
The environment of Harrison Hot Springs embodies a complex continuity of time interrupted by rapid ecological changes that began in the 1880s. Despite reverence for the beauty of the place, its natural resources have been stripped during periods of intensive logging, mining, and development.

Forest Markings continues an ongoing study of the role forests play in recovering and renewing an endangered relationship with nature. They reflect on the loss of plant and animal species, the altering of systems on multiple scales, and the effects of our actions on well-being, culture, and language. Identity and community were once linked to the land and natural systems, yet we have experienced an extinction of knowledge with every generation as our baseline of understanding the world around us shifts. Forests play a central role in rebuilding connections to land and place.

Several Forest Markings were installed at key locations in the village and its surrounding Coastal Western Hemlock forest. These "drawings" in three-dimensions combine academic ecological studies with primary experience in the forest and intertwine two interpretations of the word. First, they draw—or abstract—their order from the positions of the trees on the sites; and second, they engage the forest with taut lines of string that resemble lines drawn on paper. Although the approach is consistent, the dimensions and configurations of the strings respond to the shape, arrangement, and spacing of trees, and their branches and stumps.

The spatial paracord (string) drawings are akin to rapid sketches. They are made in a few hours, photographed, and then dismantled, with the only trace of their existence remaining in pixels. I enter the landscape with no preconception of what will result from being there, nor how on an emotional level I will leave. Slowly, and with each subsequent installation, I realize the works are simultaneously a form of exchange and an apology. The installed drawings outside of the Ranger Station Gallery is an attempt to conjoin the temporary pieces.

The actions and reactions involved in these various studies remind me that although nature long ago made the first move, we decide what follows: do we protect, or control and possibly destroy? Nature continues to respond even if we have eradicated the possibility of true dialogue. The Forest Markings reflect my re-learning to connect to land and place; it uses drawing as an act of reciprocity. Despite any formal beauty that may or may not result, for me the drawings are ultimately about about invoking a deeper connection to land and place.